at George Washington Inn
---
If you're looking for a luxury Port Angeles Hotel, look no further than our boutique waterfront inn. All of our rooms feature themes covering the phases of George Washington's adult life. It begins with his early years as a land surveyor to a general in the Continental Army, then as our first president, and his eventual retirement on the estate at Mount Vernon. There's even a suite that honors his beloved wife, Martha. All rooms offer panoramic ocean and mountain views. King beds are dressed with the finest high-count cotton sheets. A relaxing spa air bath and a charming fireplace complete these truly unforgettable luxurious rooms.
Your stay at the George Washington Inn goes beyond the traditional Port Angeles hotel stay. Here at the Inn you're welcomed into waterfront luxury. The inn's front desk provides a friendly concierge service and is always available to guests. To top it off, a delicious hot breakfast is included in your stay. It's sure to begin your day in grand style.
Each Guest Room Features:
Explore our Luxurious Guest Rooms:
Rates start at $360 nightly. Check Availability for exact rates based on travel days, number of guests and room choice.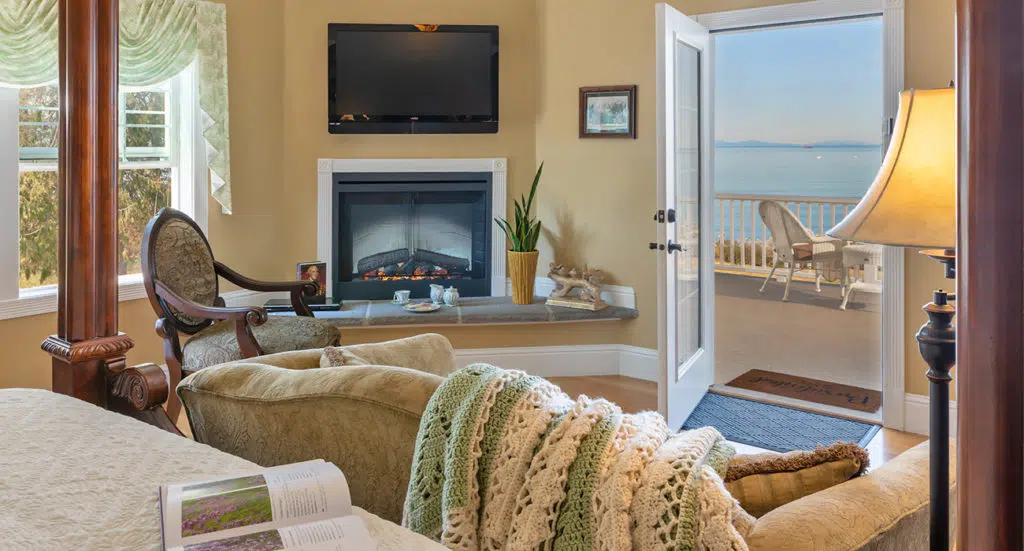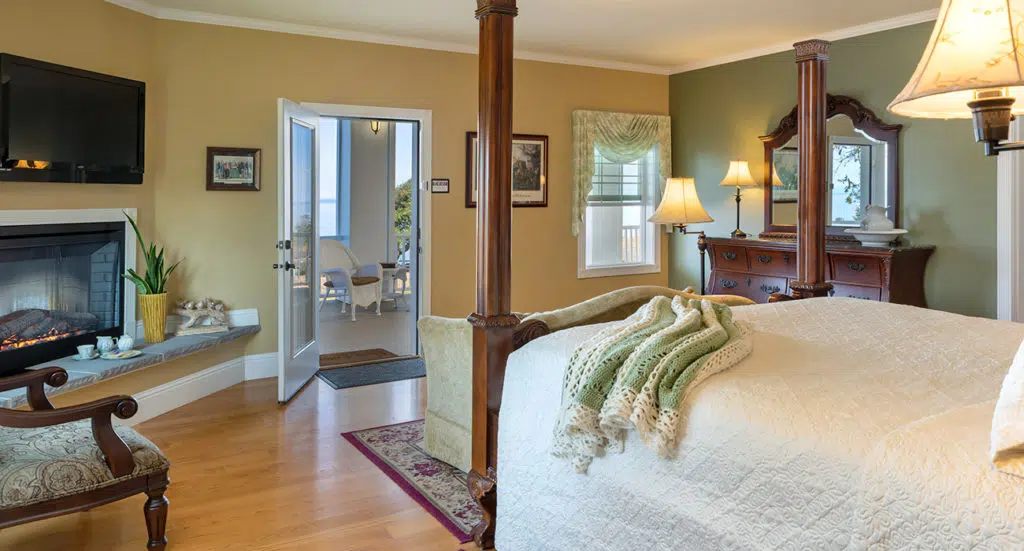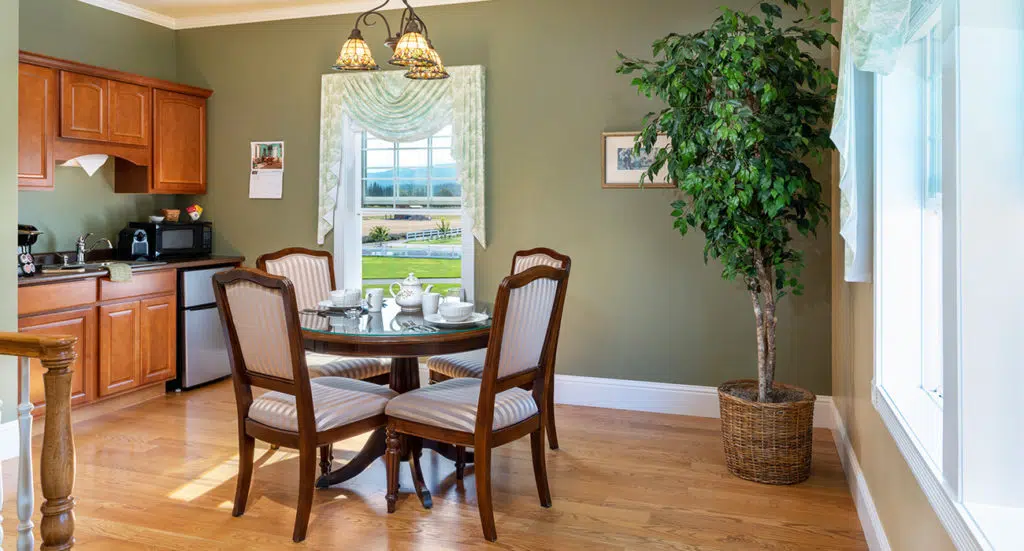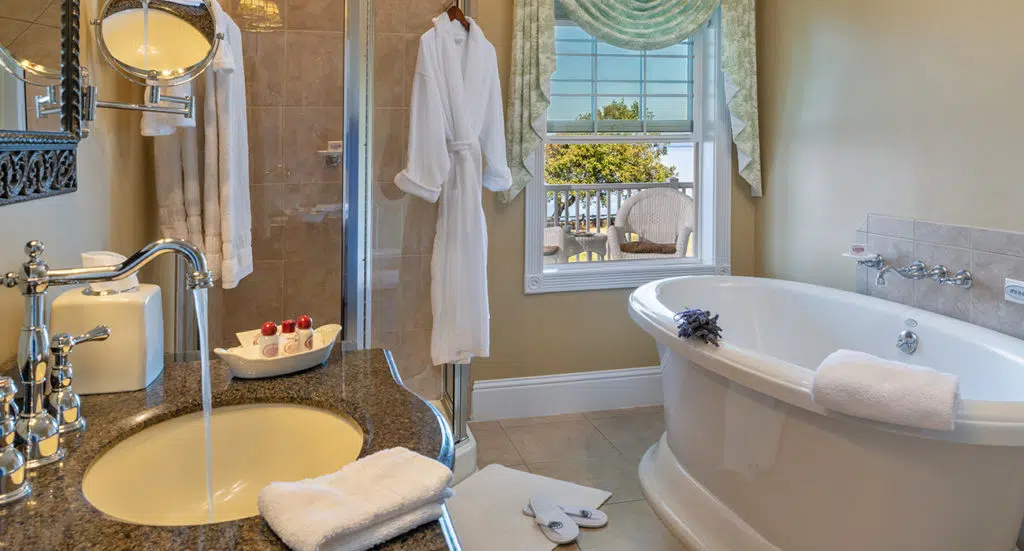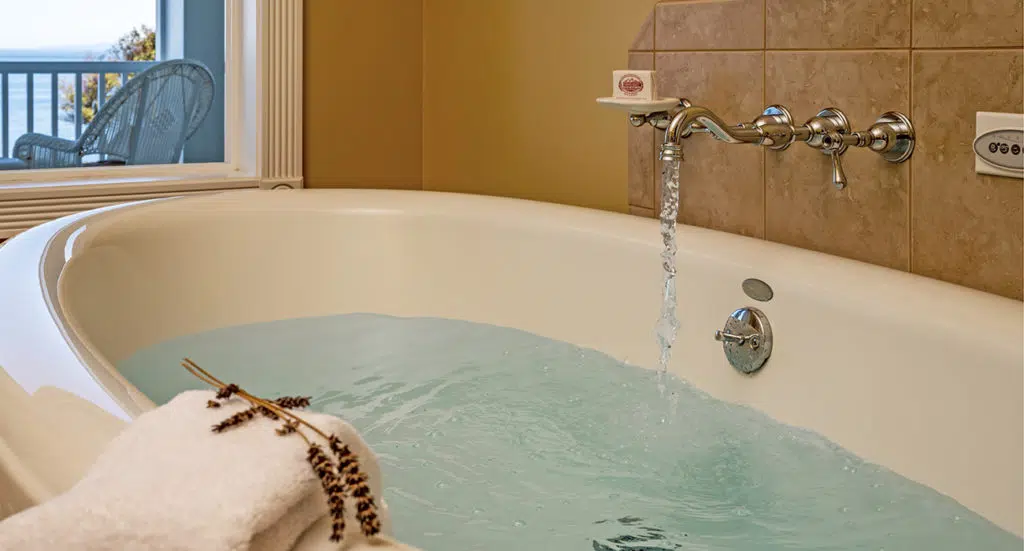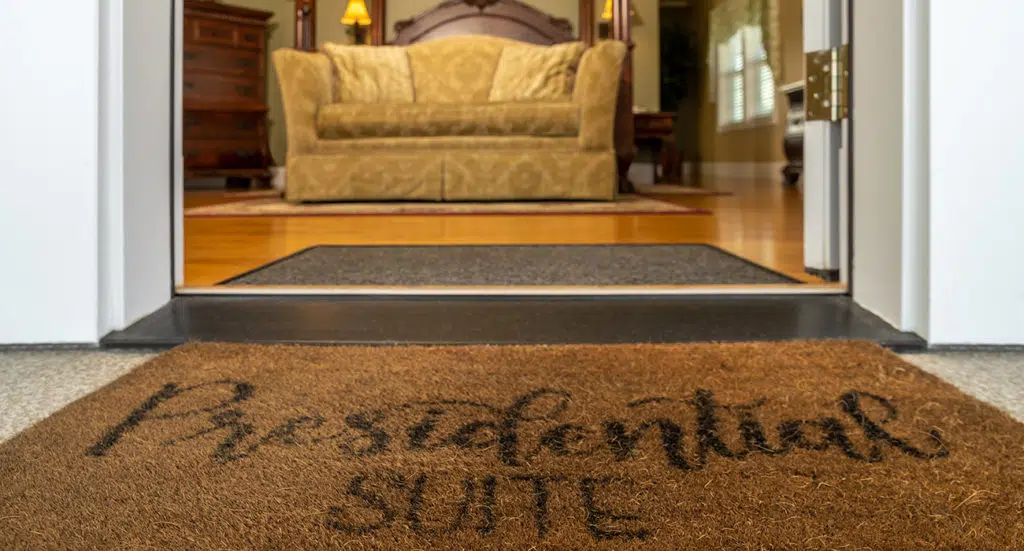 Presidential Suite
Our nation's first president was truly "larger than life." As the largest and most luxurious room at the Inn, this grand suite is truly fit for a President. The suite features both private front and veranda entrances. From this ideal location on the west end of the Inn, you'll enjoy a panoramic view of the Olympic Mountains from parlor and kitchenette – complete with fridge, microwave, sink, Nespresso coffee maker, dining table and chairs, and complementary juice and water.
Listen to ocean breezes as they whisper through the trees and fall asleep as you watch ships gliding by on the Strait of Juan de Fuca. Every direction features magnificent views through toile-dressed windows. Wrapped in your robe, relax in front of the all-season fireplace and watch a movie, or pamper yourself with a bubble bath in the large two-person spa tub, then tuck your toes into crisp luxury cotton sheets for an unforgettable night's sleep.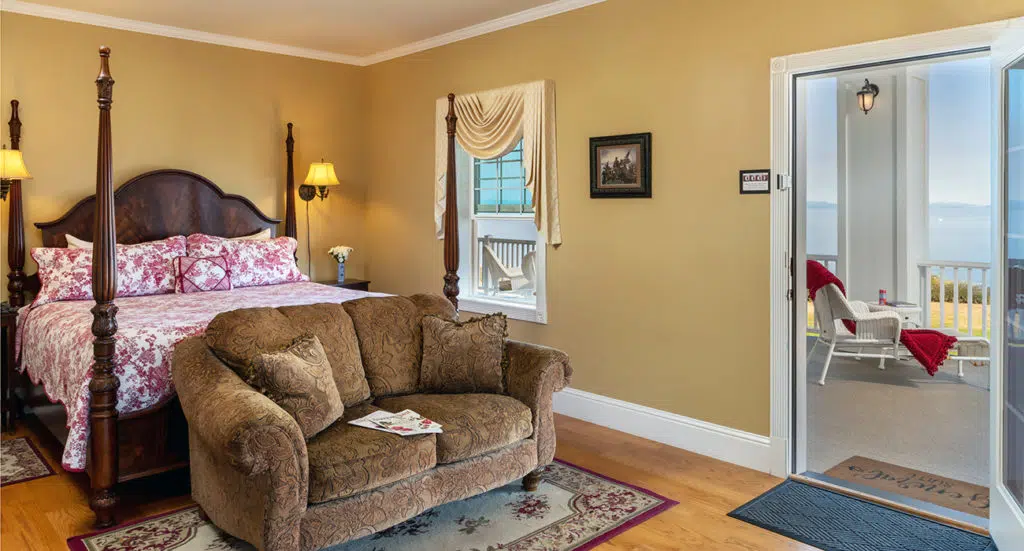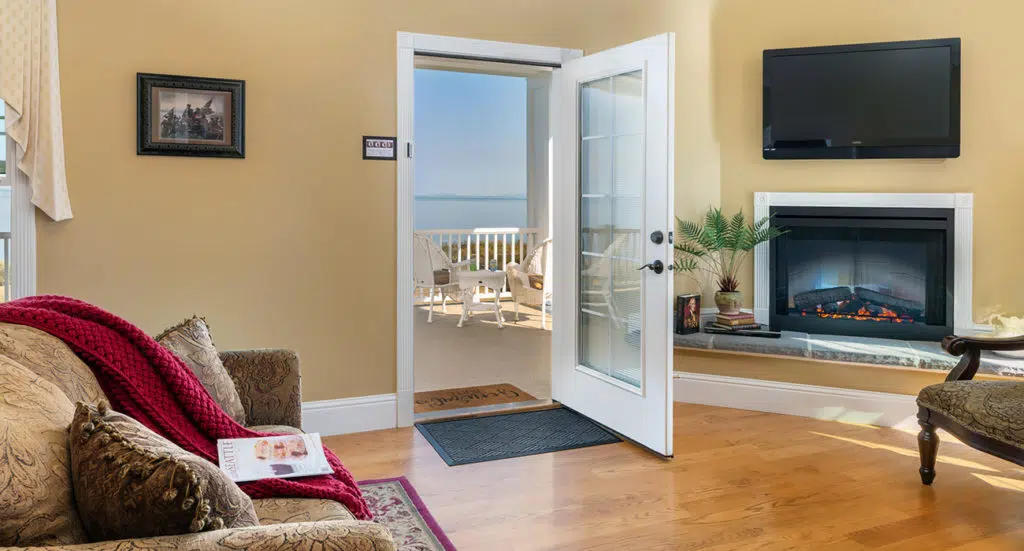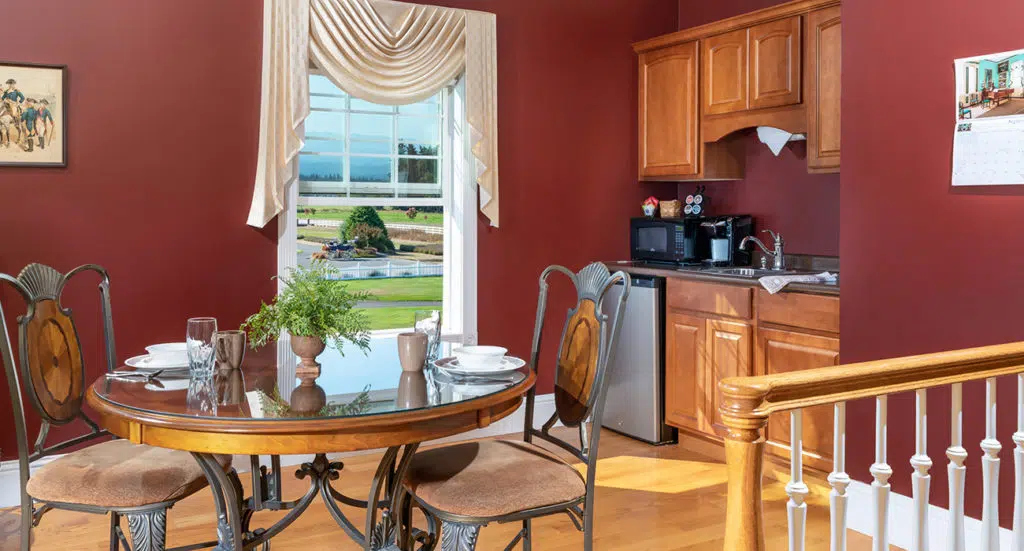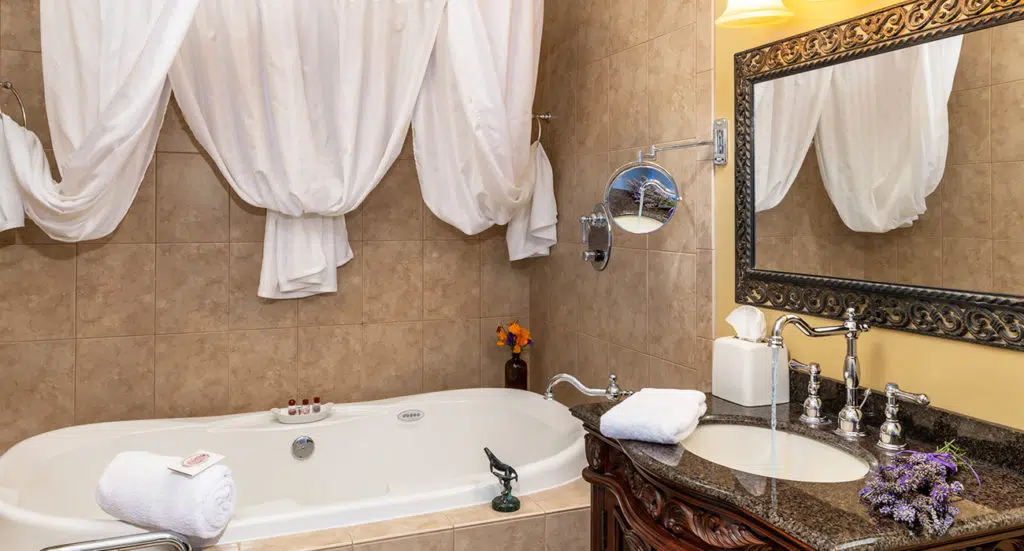 General Washington Suite
General Washington was well-respected as a statesman and leader. Always humble, resourceful, and innovative, he would be amazed at the luxury afforded in the General Washington Suite. Located on the east end of the Inn, enjoy panoramic views of the Olympic Mountains from the parlor of your convenience kitchen, delight in the glorious sunrise over the San Juan Islands, and catch a glimpse of the bald eagles soaring over the Strait of Juan de Fuca. The kitchen is complete with fridge, microwave, coffee maker, and complimentary juice and water.
Relax with a bubble bath in the large two-person spa tub or enjoy a hot shower in the separate corner shower. Snuggle up to the warmth of the all-season fireplace, or climb into the luxury linens of your king four-poster bed for an unforgettable night's sleep. Each morning, awaken to the aroma of fresh-brewed "Cup of George" coffee and indulge in the delicious hot breakfast prepared for you before heading out on your day's adventures. This suite also features private front & veranda entrances.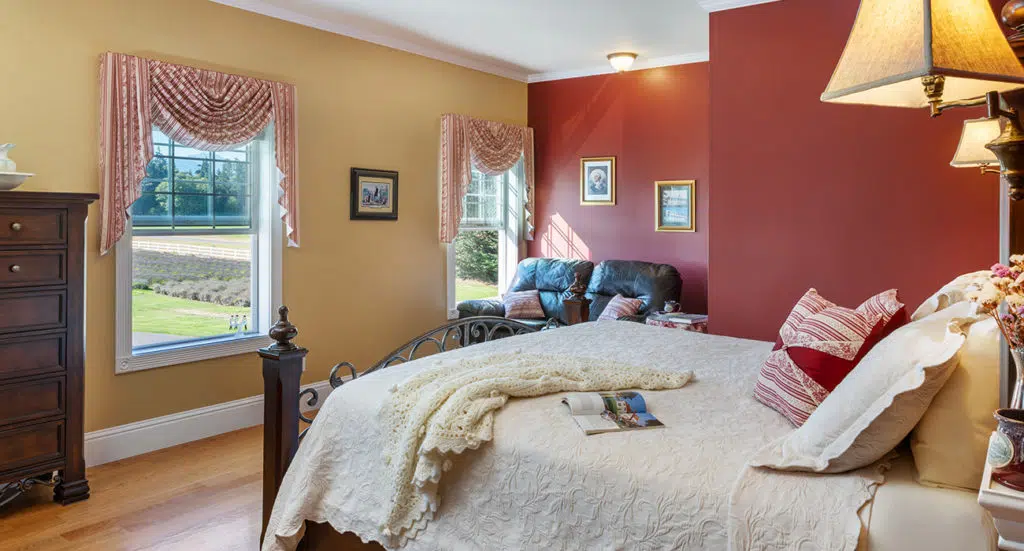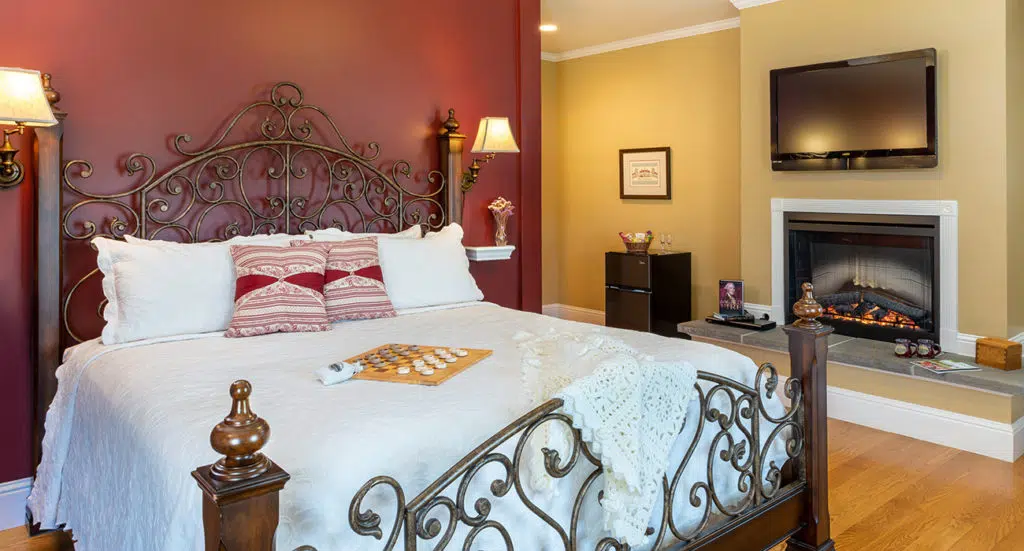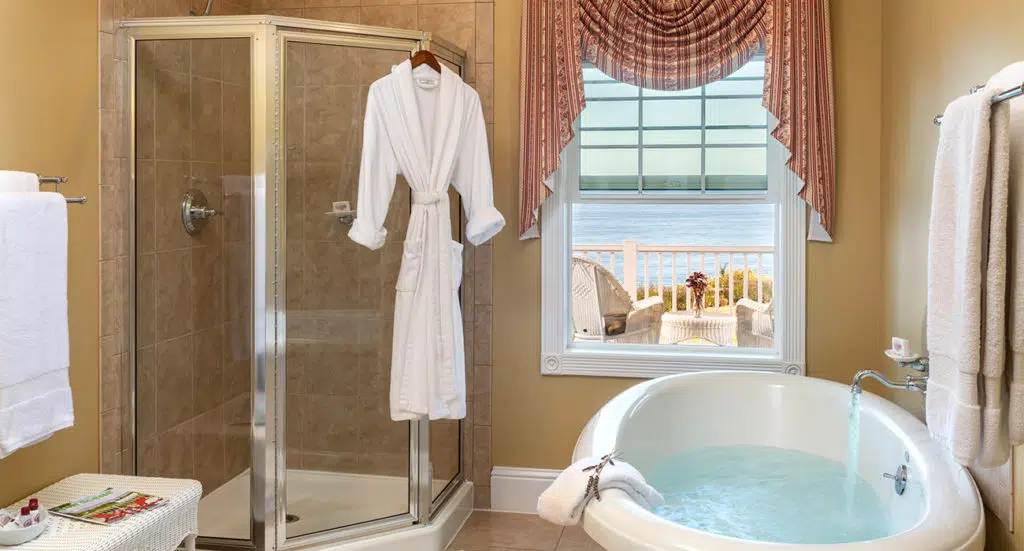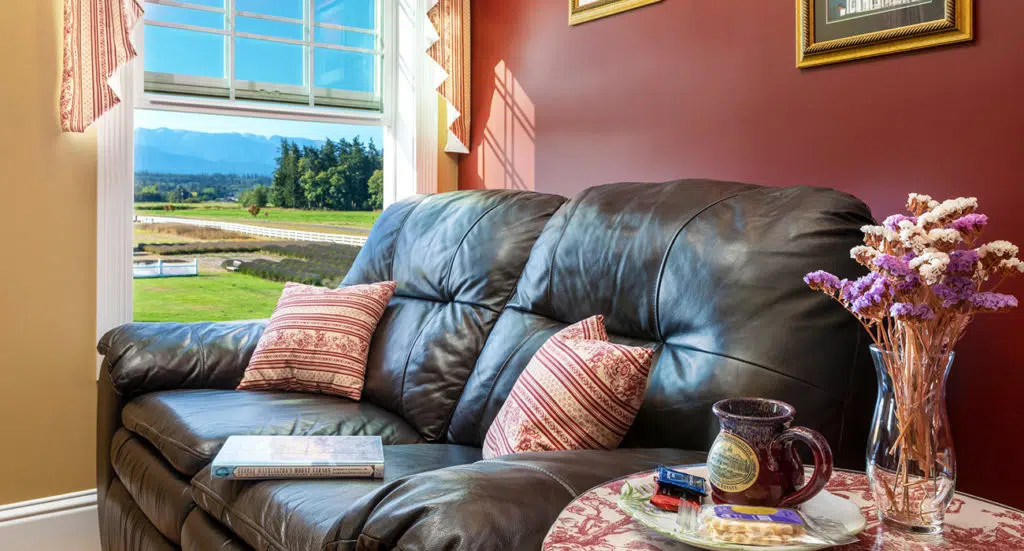 Mount Vernon Retreat
After his many absences, whether for military duty or presidential responsibilities, George Washington always loved to return to his beloved Mount Vernon. This was his retreat to normal life, and he was delighted when his duties allowed him to finally return permanently to his passion for farming and a pastoral lifestyle. Fittingly, the Mount Vernon Retreat boasts a cottage red and white theme reminiscent of the colors of George's Virginia home.
The south-facing windows overlook our farm's lavender fields against the backdrop of the majestic Olympic Mountains. Open your windows and breathe in the aroma of fresh-blooming lavender, listen to the hum of the honey bees in the field, and bask in the afternoon sunshine. As the sun sets, enjoy a bubble bath in the spa tub, snuggle up by the fire, then nestle in under the crisp luxury cotton sheets for a good night's sleep.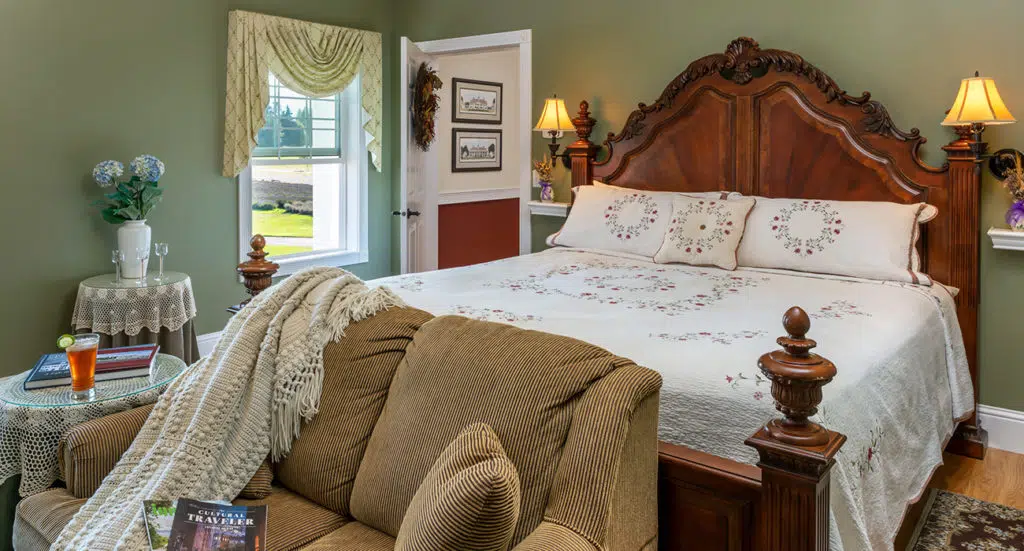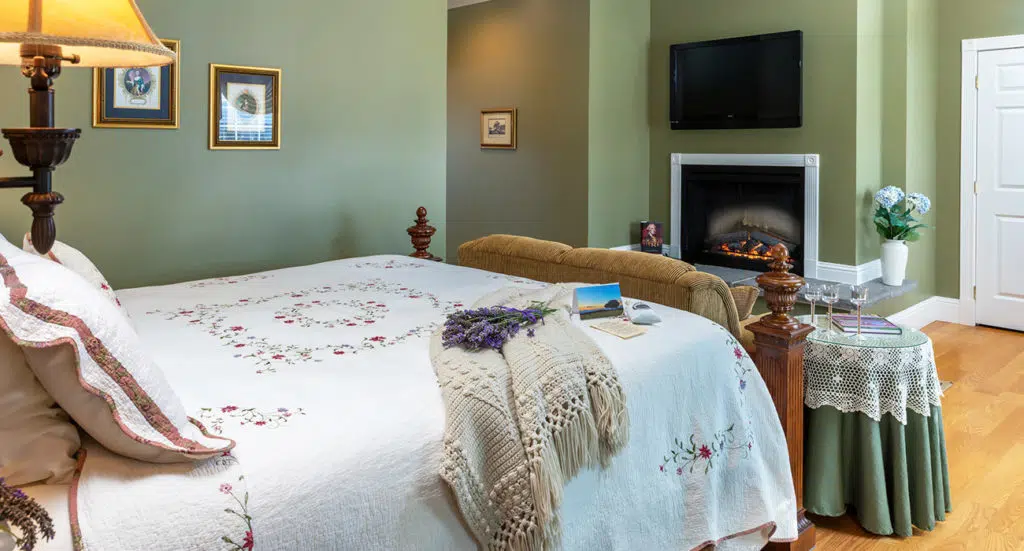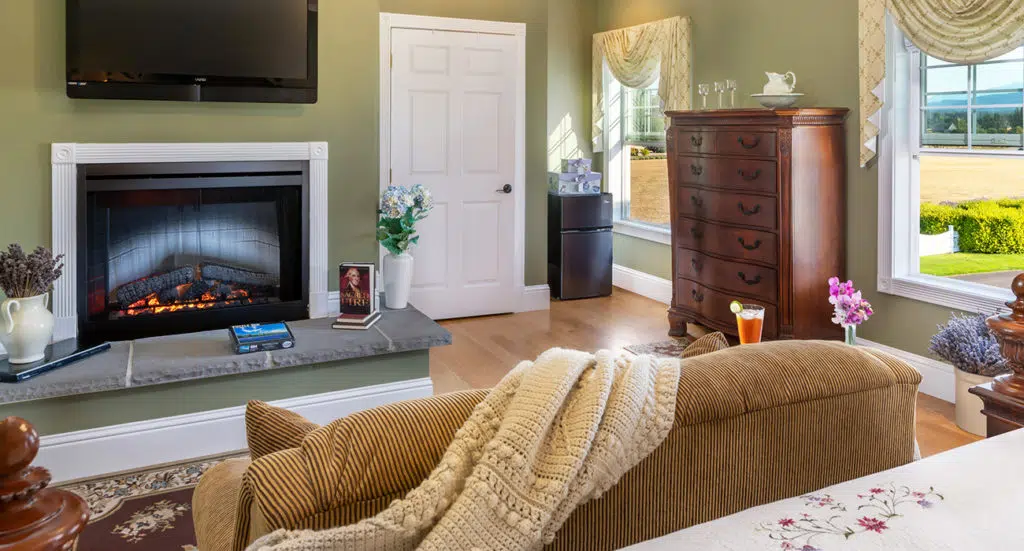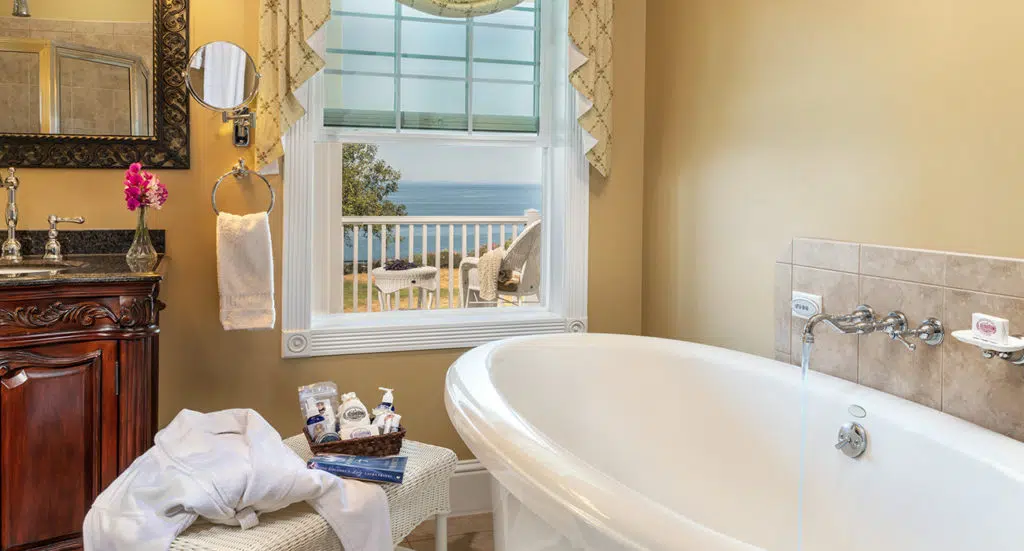 Surveyor Retreat
George Washington spent his teen years as a surveyor. Many nights were spent in the open fields, and perhaps this is where he developed his love of the natural landscape. The Surveyor Retreat is richly and tastefully decorated in a warm sage with earthy tones. The south-facing windows offer a panoramic view of the majestic Olympic Mountain range and the wide-open fields.
As the sun begins to set, wrap yourself in your robe, sink into the love seat in front of the all-season fireplace, and unwind. Your king bed with its luxury linens assures a good night's sleep and a new day of adventure and exploration on the beautiful Olympic Peninsula. Awaken to the aroma of coffee and indulge in a delicious hot breakfast to start your day.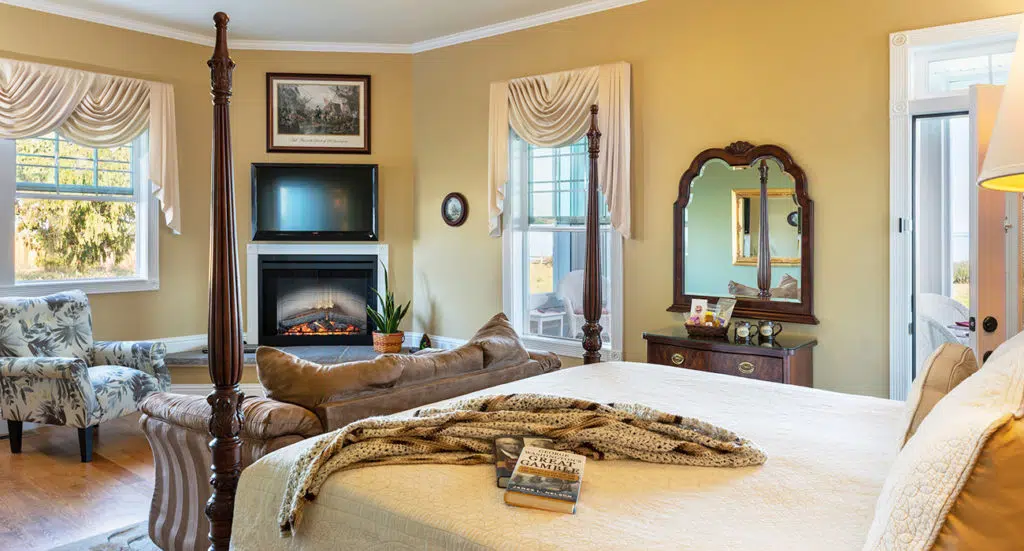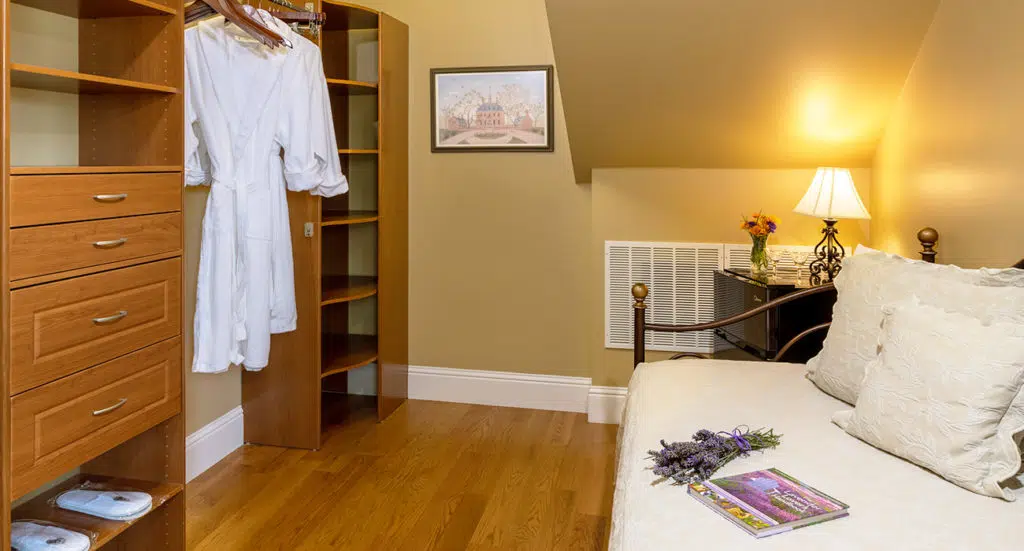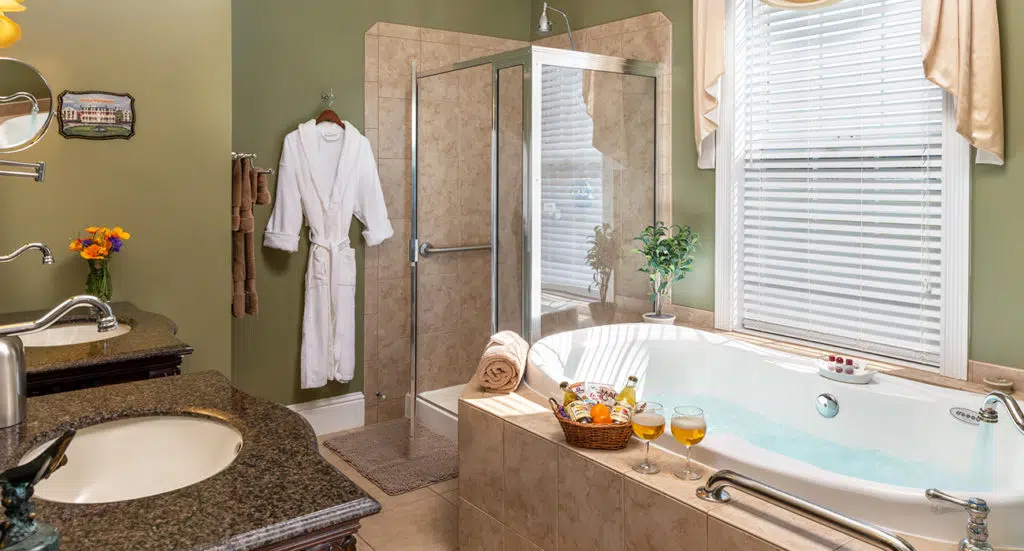 Martha Washington Suite
Martha Washington was well-known for her genuine hospitality. She graciously welcomed strangers into her home, provided them with a meal, and often offered overnight lodging to those who had traveled long distances to meet with her husband. This suite, conveniently located on the ground floor of the inn, is easily accessed by guests with mobility limitations.
Located on the west end behind the library, this king room enjoys a beautiful view of the Strait of Juan de Fuca with private access to the piazza. The bathroom features a soaking tub, separate shower, and dual sinks. A day bed, tucked into a semi-private alcove, accommodates a third traveler or provides a separate sleeping option if desired.